Christmas vacation passed for the benefit of our wonderful pets.
Young dogs at one years old, Adam Racy Style RYTSAR SVETA and RUSSIA VELIKAYA practiced, and masters Adam Racy Style APOLLON and BORESLAVA - demonstrated the wonders of obedience and agility.
The training program included not only simple elements of OKD, as a set of sit-lie-stand, barriers, ladders, boom and others. It had working in couple, which is a more difficult training variant and requires not only obedience, but also coordination of dog's movements.
The blackies showed their straight fellows, especially in part of the training program, where they had to ignore outside influences. They were great and did not show any reaction neither shots, nor other animals, nor to strangers.
At the end of the lessons, smart APOLLON had been demonstrated quite incredible complex on a boom!
The video of the training posted on the KENNEL's official video channel. The photos presented in the GALLERY.
Gogs, worked in the training, in addition to all their talents and skills are also winners of many Dog Shows and has titles Champions of Russia and other countries. Here are just some of their titles:
Adam Racy Style RYTSAR SVETA in one year – JUNIOR CLUB CHAMPION! JUNIOR CHAMPION OF RUSSIA, JUNIOR CLASS WINNER OF THE 25TH ANNIVERSARY DOG SHOW NATIONAL BRT CLUB!
His co-litter Adam Racy Style ROSSIYA VELIKAYA – CANDIDATE TO JUNIOR CHAMPIONS OF NKP, JUNIOR CHAMPION OF RUSSIA!
Adam Racy Style APOLLON - INTERCHAMPION, CHAMPION NKP BRT, JUNIOR CHAMPION of RUSSIA, GRAND CHAMPION of RUSSIA, CHAMPION of MOLDOVA, RKF, etc.
In addition, our BORESLAVA LJUBOV ADAMA, the ancestor and Matriarch with a capital letter, carries the titles WORLD CHAMPION VETERAN, INTERCHAMPION, WINNER EURASIA, CHAMPION NKP, GRAND CHAMPION of RUSSIA, CHAMPION of BELARUS, HUNGARY, FINLAND and othersa.
The successes of our Terriers in all areas allow to say without false modesty, that the Kennel grow not only Dog Show's Champions, who has excellent exterior and compliance with the breed, but also could be real security and working dogs. Comprehensive regulary trainings contribute to full and harmonious development of animals.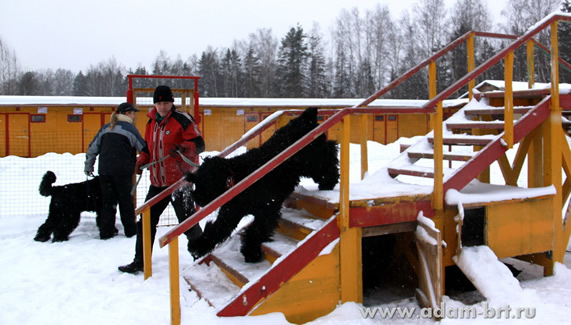 It known that the qualities and ability to learning and training are inherited, from smart and beautiful parents turn out the same puppies.
This is the main direction of the Kennel, not only to the popularity increase of the breed, but also improve the quality of the Russian Black Terrier breed in Russia and abroad.
Winter training and shooting took place in Moscow suburbs on the training area Kennel's official partners - KC "Sluzhebnaja sobaka", where similarly has trainings many others our blackies.
The KC "Sluzhebnaja sobaka" is the team of true professionals, not just theorists or trainers "home" dogs, but cynologists with years experience in training service dogs for work in the Armed Forces and Internal Troops of the Russian Federation.
Thanks to all specialists of Cynological center, especially to the instructor Ilya Ganelin and to Director Dmitry Rodionov for assistance to harmonious development and education of our dogs.