January 15, 2017, the day after the magnificent wins at the Specialty and Regional Dog Shows in Kyshtym, in a reserved area under the famous town Ozersk in the Chelyabinsk region near mount Egosa held very significant event for the Kennel ADAM RACY STYLE - general TRIBAL REVIEW Ural branch of the Kennel.
Dogs was appreciated highly by Kennel's specialists and handlers, who came from Moscow specially for conduct and participate at the event.
During the show and presented of young had been qualified dogs examination, an independent exterior evaluation, carried out the MEASUREMENTS, evaluated the temperament and psyche. Dog owners receive given advice about growing, care, prepare for Dog Shows and performance, discussed the training nuances for Black Russian Terriers.
Within the Tribal review was an examination and evaluation more than twenty dogs from Ural branch of the Kennel ADAM RACY STYLE (BERENIS, DAVLAT, DAVID, DAILY ROSE, DALLAS, IDALGO, IDALGO, ISPOLIN, KODEKS CHESTI, LIBERA, OLIMP. STEFANIA, SOFIA, FORSAZH, PHARAOH, FERZ, PHENOMEN), and others, as adults as young generation from Ekaterinburg, Chelyabinsk, Ozersk, Miass, Zlatoust and other Ural places.
The experts gave positives of level rising, exterior, physiology, etc. of young dogs from F-litter. The FORSAZH, FARAOH, FERZ, FENOMENON has show excellent results.
The awarding ceremony for contribution to the development of the breed was held to all participants – with DIPLOMAS, commemorative Kennel CUPS and MEDALS! Also gave PRESENTS from the official sponsor of the event – PURINE.
Especially awarded by the diplomas Kennel Ural branch Head OKSANA CHEPKANICH for the excellent organization Kennel work at Ural Federal district of the Russian Federation and for a huge contribution to the Russian black Terrier breed development. Also was awarded LARISSA STESHINA, as a Leading breeder of Ural branch Kennel ADAM RACY STYLE for great contribution and active participation in the Russian Black Terrier breed growing.
The final inspection of tribal rewiew participants held on the nature after the official part and the ceremony.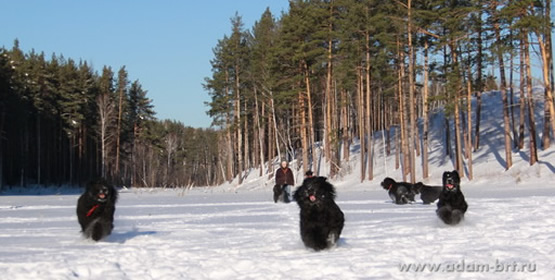 Blackies pack looked great on the walk in the white snow.
After review the participants and guests came to the informal communication during the walk and the victory celebration.
Many thanks to the organizers, participants and guests of the Tribial Rewiew!